The pandemic has done good and bad to me. I wouldn't write about my so-called vulnerability again, I've bored you enough with that previously. I've changed so much as a person, my friends who've met me now after 2 years ask me- "Are you sure you are you?"
You know, 2021 is almost over, and remember one of my first posts on the blog? I spoke about how I changed that year. This would be the second version of that.
A little by little, new changes kept adding up and sometimes, they pulled out a chunk of me or added three new more chunks extra (literally, too). The pandemic also exposed me to different things, like internet culture, aesthetics, *memes*, pop culture and even fandom culture.
I've become socially anxious. My friends called me, "that extrovert girl", but I don't totally live up to that. So the social anxiety slowly came by. The First step being less people-interaction (thank you, lockdown). Then came the texting period, where I began texting people. Then I only texted people.
Realizing that I was being too much of an in-the-corner-with-zero-social-interaction person, I began doing phone calls. But that too was only when the other person called me.
I hesitate to go to someone's house to give something like a dish my mother made. You know, the typical Indian household thing where you need to give back the neighbor's box with some food item you made, just because you cannot return something empty? I cannot get myself to do that. Not because I deem it a lowly thing to do (which it isn't), but because I have zero knowledge about how to behave with Indian aunties or neighbors. Even if my parents taught me manners well.
Now since I am back at school, things are getting tougher. I do not know how to react to people I haven't spoken with for around 2 years, but were friends of mine back then. It's awkward. Plus, it gets hard to recognize people who've either doubled in length or in breadth.
Also, I've become a bit of a perfectionist. Not a bit maybe. A lot, so much that it might be toxic.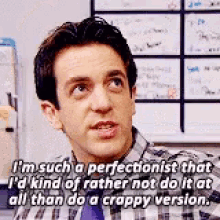 My school assignments needs to be perfect, so to achieve that unattainable perfection, I spend a whole day to finish a small assignment. My mother says I take things too seriously because of that. I think that the partial reason of this cringe perfectionism is high expectations from myself.
I've been trying to decrease that. I'm slowly understanding that things aren't meant to be perfect. And even though my peers have high expectations from me, they aren't as high as the standards I set for myself. Self acceptance would get me out of it.
I've become more of a realist. I've been an optimist, whose encouraging people even if it's practically and really impossible for that to happen. But this time, I think I've changed for the better. Living in the practicality is what I want, I'm going closer to being that person.
I speak too fast. Don't know if this qualifies, but I used to be a very "clear" speaker, now I just rush faster than a Japanese Bullet train. My brain is thinking too fast, I'm not able to put it into words at a normal human pace. Yeah I know, my brain's faster than normal brains. (Truth? No, it isn't.)
The pandemic either changed me, or brought out my real colors. But I have this vision, a prospective, about who I am supposed to be. I want to be THAT confident, stubborn, independent chick who enjoys herself and is practical. I don't know how close I am to that goal, but let's say… halfway through?
And before I end today, I have a message for you. Or more, a reader and a blog pal does. I promised Harshita that there'd be a shoutout for a beautiful comment she wrote on a blog post of mine (read it if you'd like here).
All body sizes are not beautiful. No they are not. Beauty is something the society, we, created as a way to obtain the validity. It makes you think you are only valid if you have a pretty face and a curved body

All body sizes aren't beautiful

But they are valid

We sometimes label people 'looks' based on their look. I mean, it can be a mental condition or it could be from birth or it might be in the genes et cetera. We create this idea of people in our heads without getting to know them.

Body positivity is really important. Every one should feel this validity with their own skin. You are not obliged to change yourself *cough* torture yourself *cough* for [the ]convenience of others.

Harshita/Aashi Rath @ words on fleek
So with that message, we end here. Namaste.
Not-so-daintily loving you,
Divi.